Professional Tree Services in Melbourne
Victoria
Qualified Arborists Insured to 20 Million
Here at Proleaf Pty Ltd we specialize in residential and commercial stump removal in Melbourne, Victoria. Safety culture is a big part of Proleaf Pty Ltd with fully qualified staff, regular equipment maintenance and safe work procedures. Whether it's a small project in a garden or a large commercial contract, we make sure the job is carried out in a safe and cost effective manner. Check out the areas we cover.
Big Enough To Deliver, Small Enough To Care.
At Proleaf Pty Ltd, our speciality is tree stump removal in Melbourne. We provide a comprehensive stump grinding service to residential and commercial clients in some of Melbourne's finest streets, gardens and parks. Our customers can be sure that no matter how big or small their stump removal project, it will be carried out professionally and safely. From the first point of contact to the job completion, we make sure that our clients are given the best service possible.
We have a wealth of stump removal experience in our team at Proleaf Pty Ltd and we pride ourselves on being experts at what we do. Our team are fully qualified, friendly, professional and safety is a big part of our business. We make sure that all of our machinery is maintained and kept up to industry standards as well as providing regular training for our stump grinding operators.
We specialise in hard to access tree stump removal, large tree stump grinding, root grinding and any other stump removal. We carry out regular work for local authorities, property developers, landscape gardeners and property owners. Whether it's one tree stump in a garden or multiple stumps on a construction site, we can service our client's needs. We provide free written quotations and are happy to provide expert advice regarding stump removal in Melbourne.
What Our Clients Say About Us...
Dave removed a large dead stump from our garden in a couple of hours. Garden was left tidier than when he started and there was no damage to surrounding plants. Would highly recommend the Proleaf team!
Reasonable quote to clear stumps and roots from our worksite. Ground down deeper than expected, good clean up. Will use Proleaf again, thanks.
Proleaf removed a big palm stump that was taking over my front garden. They took away all the chippings and left the garden nice and tidy. Will recommend these guys to friends.
Very impressed with such a professional service. They dealt with all of the paperwork as we had a gas pipe close to the tree stump. No damage was caused and job was done very quickly!
WOW. Tree-riffic result, from David at Proleaf, the job was tougher than expected, bigger to, naturally taking longer in wet weather conditions. I admire someone who seeks solution and overcomes problems with intelligence and determination and marvelous attitude. Bonus; arrived on time (as said) and pricing was Very competitive. Great work Proleaf, Genuinely happy to highly recommend, no need to wish you well in your future endeavors, as they appear assured. Supporting local business. Many thanks to David.
Stump Removal Experts In Melbourne
We make sure our client's expectations are met by ensuring that tree stumps are removed efficiently and safely with no damage to surrounding property. We conduct a full pre-work inspection and risk assessment on every job. This allows us to control any hazards that may be present including using underground cable locators, screens to stop flying debris and traffic management. All of our team wear full Australian Standard personal protective equipment that is required to carry out stump grinding and chainsaw tasks. We also provide stump grinding debris removal and reinstatement if the job requires.
Our stump grinding experts in Melbourne can remove small or large tree stumps in any situation. We have competitive rates and we can be as flexible as possible in all situations. If you have an emergency stump that needs removing, we will do our best to carry out the works as soon as possible. Our fleet of stump grinding machinery includes small handheld stump grinders for tight access situations, medium size stump grinders for residential stump removal and large excavators for construction site tree stump grinding or grubbing.
If stump cutting, stump digging or stump grubbing is required, we can carry out this work and advise on achieving the desired outcome. Our machines can grind and remove tree stumps and roots completely to allow for redevelopment or replanting a new tree. If your project requires stump chipping or stump mulching in Melbourne then we are proud to say that we are specialists in this field. There is no project too big or too small for Proleaf Pty Ltd and we ensure our clients get the results they are looking for. We are big enough to deliver and small enough to care.
At Proleaf Pty Ltd we offer several different types of stump removal. The type of machine and work methodology can vary greatly depending on the size of the stump(s), the size of the project, the access to the worksite and if underground utilities are present.
There are many reasons a stump may need to be removed and this also plays a part when deciding which machine or removal technique we will use. In most cases we will book in an appointment and provide a free written quotation on site.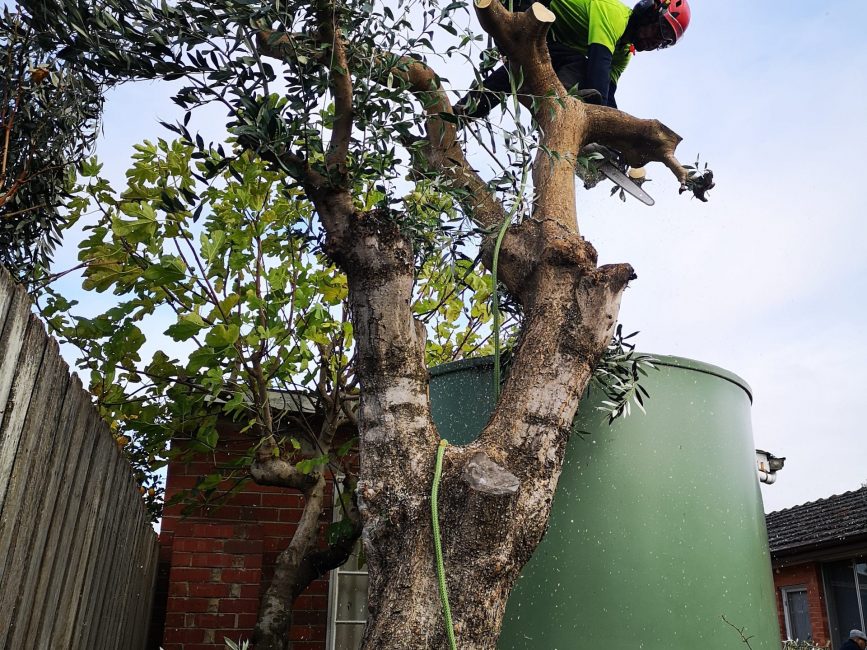 Unfortunately tree removal is sometimes necessary if a tree is diseased, dangerous or just too big for the space. Our expert team of climbing Arborists can remove any tree in any location, safely and efficiently. Whether you have a small or large tree that needs to be removed, our team can be of assistance.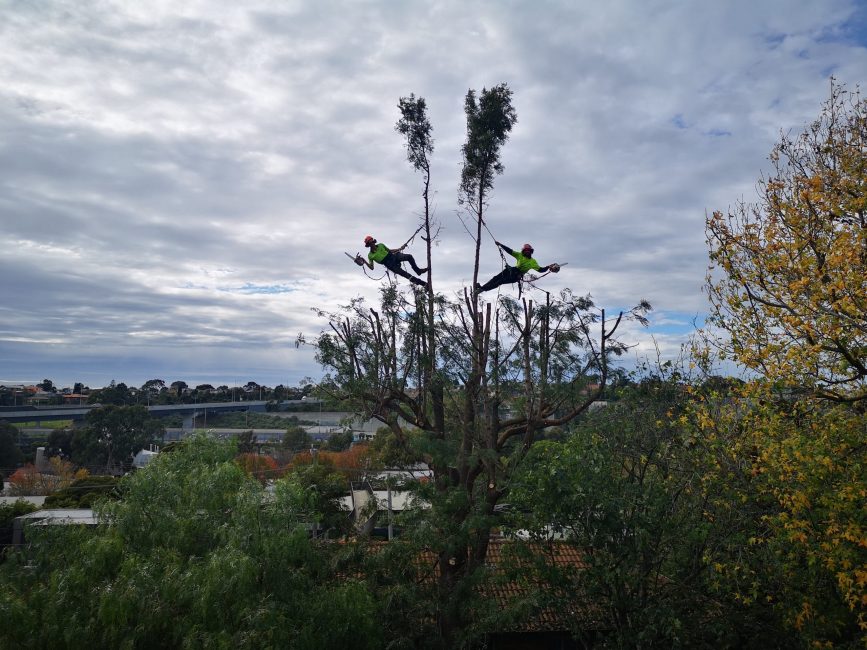 Looking to get your trees trimmed, pruned and looking good? No problem. We always prefer to reccomend tree pruning over tree removal if its possible. Our team of qualified arborists can prune, shape or trim your trees to exactly the way they need to be. Big trees or small, we can do it all.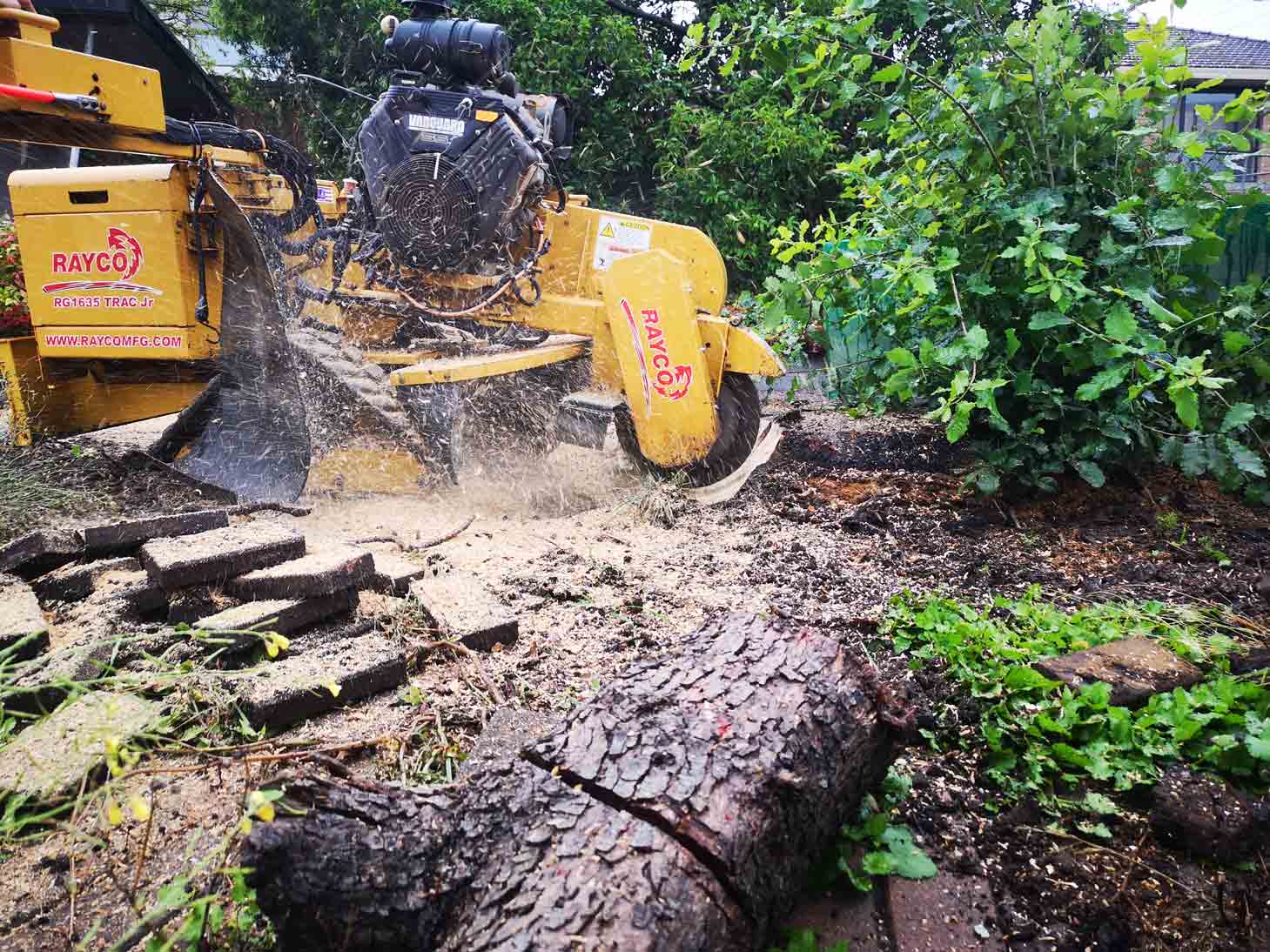 Stump grinding is our most common stump removal technique. We have several different size machines from a small pedestrian stump grinder to a large tracked diesel grinder. Our small pedestrian stump grinder is perfect for small stumps in backyards or hard to reach places, this machine can be lifted into place by hand if necessary. Our bigger machines are more suited to large stumps or work on construction sites.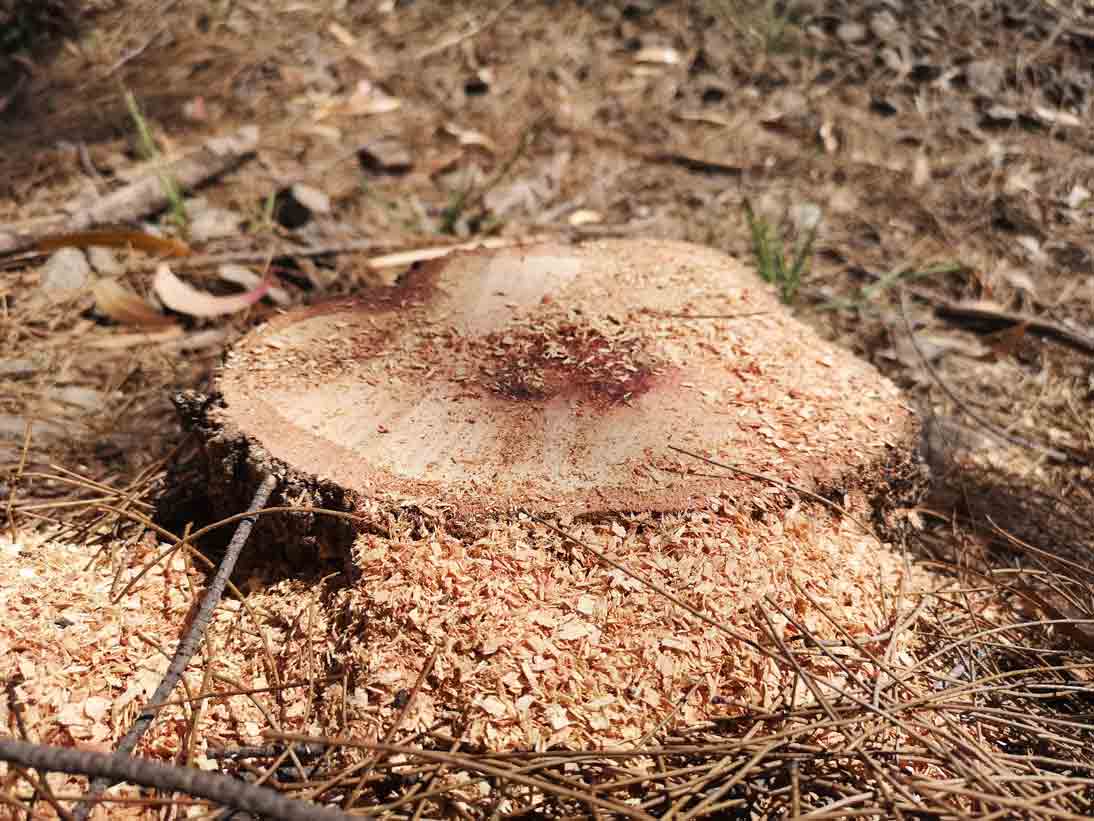 In some cases, depending on the size of the stump(s) and the worksite, grubbing the stumps out or digging maybe the best option. If it is a large construction site, we can bring in one of our excavators on site to dig out stumps depending on the specifications of the job.There are some stumps that cannot be accessed by machine and are small enough to dig out by hand. It's definitely not our first choice of work methodology but sometimes it's needs must!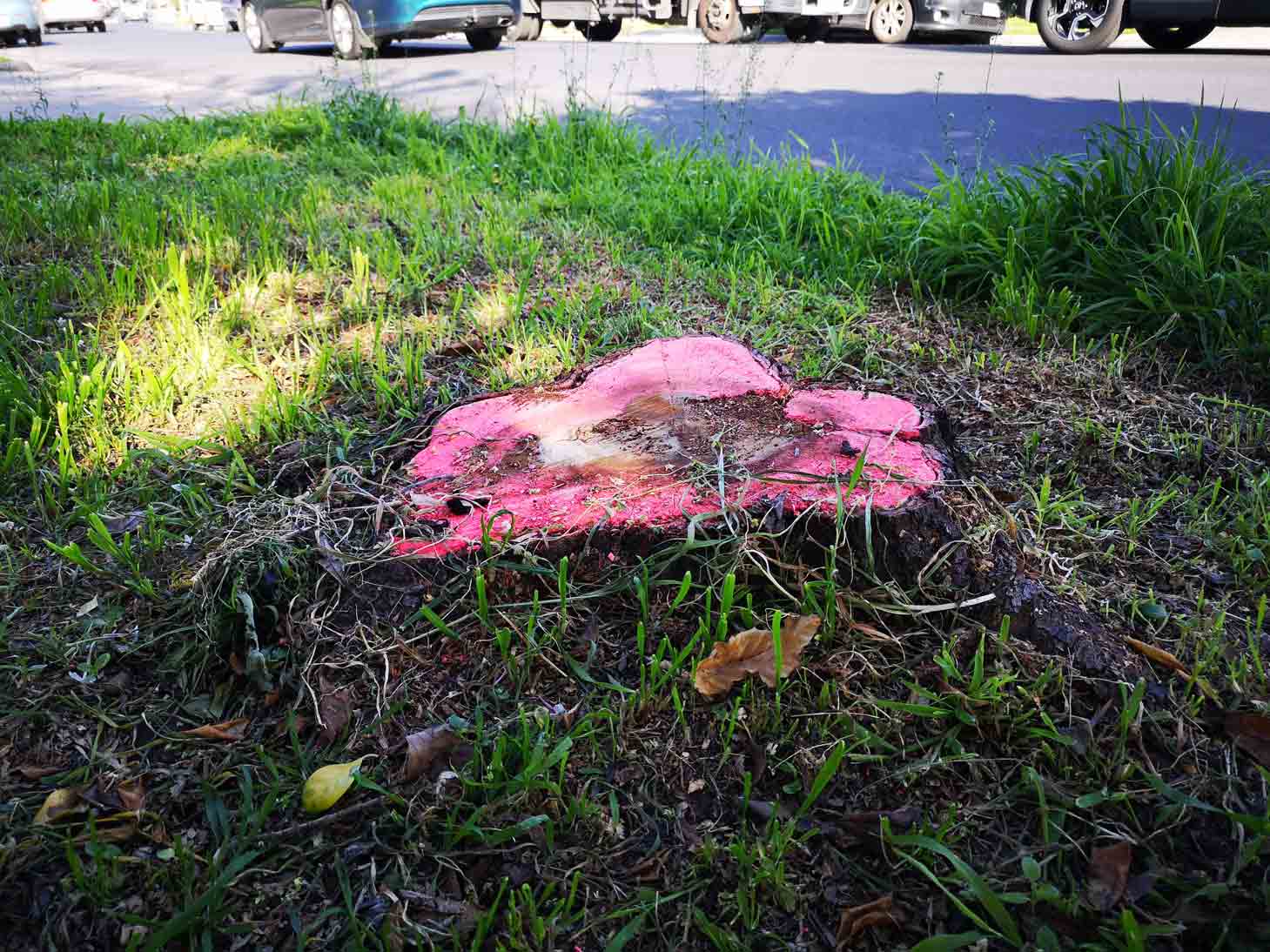 Stump poisoning is not an effective way to remove stumps quickly however it will prevent trees or shrubs from regrowing after being cut to ground level. When poison is applied to a stump it will kill off the root system and slowly break it down over time. This can be a good option if the site is hard to access and there is no immediate need to remove the stump. We can provide this service and we are happy to provide free advice regarding tree stump poisoning.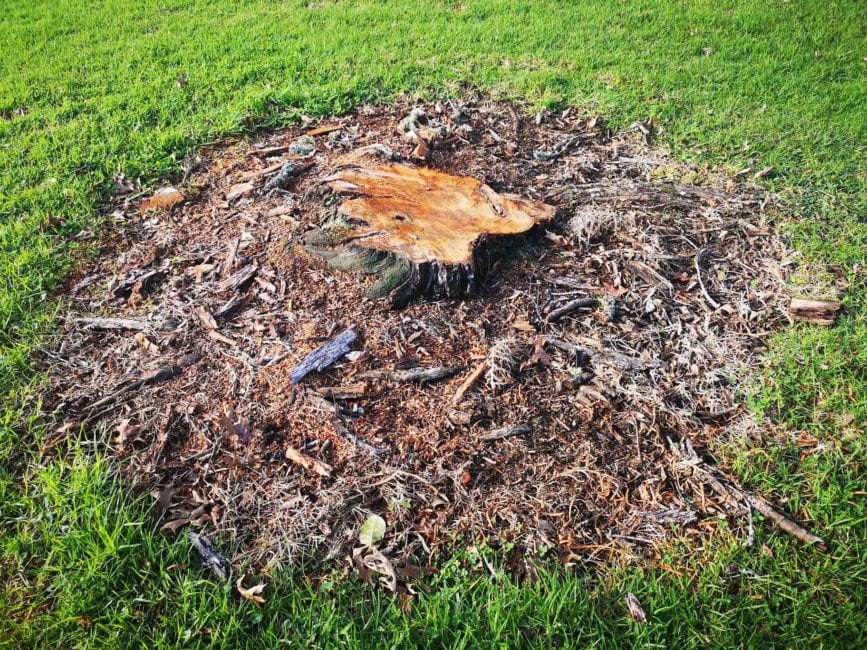 Similar to tree stumps, tree roots can be just as problematic. They may be impeding on construction projects, surfacing on lawns or be a tripping hazard. We offer a full root pruning service by qualified arborists. We can grind the roots with our root grinding machinery or dig them out depending on the desired results.